Ladle Slag Detector & Gate Closure System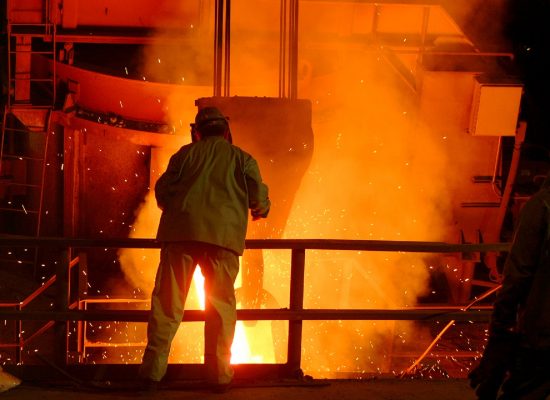 In the early 90's, TelePro was approached by a vendor who had an idea for a slag detection concept.  It involved monitoring the vibration signature of steel flow to detect the presence of slag.  The new concept of "listening" to the steel flow differed from other existing methods of slag detection and offered many advantages new to the steel industry.
The ladle slag detection system uses a piezoelectric accelerometer sampled through a dynamic signal analyzer PC card at high frequency (50kHz) to sufficiently react to vibra-acoustic changes.  The system can characterize vortexing and slag phenomena from a pouring molten steel ladle and automatically stop the flow by closing the ladle gate.  Tunable sensitivities allow for maintaining steel grade quality requirements while optimizing process yield.  Inputs and outputs interfacing the slag detection system to the steel plant are handled through various methods: analog, digital, and PLC.  To accommodate ranging end-user L2 configurations, the slag detection system supports a variety of PLC communication protocols (Modbus, Profibus, Ethernet) using various manufacturers (Siemens, Schneider).
The ladle slag detection system started as a theory with only limited lab trials using water-based models.  TelePro expanded on this theory to develop a robust algorithm.  Computer hardware was carefully chosen that supported fast-rate acoustic monitoring and a custom software application was written to analyze, detect, respond, and record measured data.  Specialty enclosures were designed for the industrial environment.  TelePro took part in the first live trials and soon the slag detection concept was ready as a sellable product.
TelePro continues to be an integral part of the ladle slag detection system even as the founding company has merged with larger companies.  Each steel plant customer may have different configurations and requirements, so the software and hardware are continually updated for compatibility.  In the early product stages, TelePro accompanied every site installation and commissioning requiring several weeks of onsite time.  As the slag detection system evolved, system installation time reduced.  Now TelePro can remotely assist our customer during installation which means travel is no longer necessary, significantly decreasing the cost to our customer.  For each new installation, TelePro is responsible for component ordering, assembly, and acceptance tests before delivery to end customer.  Over our 20+ year relationship with the OEM, TelePro has participated in 30+ installations world-wide.