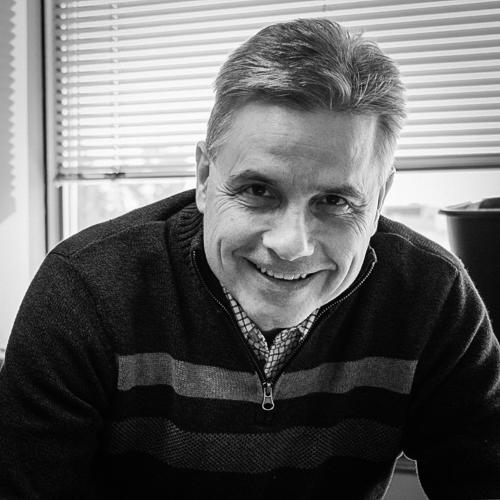 Expertise
Pat Ruane has over 29 years at TelePro working on projects of all sizes. He has complete management experience on technical projects: functional requirements, design, development, deployment, and documentation. He also actively participates as a member of a project's team.
Pat's strengths include understanding the customer's process and requirements along with their software architecture model. His philosophy is to use object-orientated programming methods in order to build the most versatile and portable solution possible.
Areas of expertise include:
Database design and architecture (Oracle and SQL Server)
Microsoft development platforms (.NET, VB6, ASP, Access, )
Process Control
Data acquisition and database programming
Shop Floor and MES implementation
Human-Machine Interface
TelePro Experience
Pat has worked on the following projects:
Designed and managed dozens of shop-floor and process control-related projects for a Fortune 100 glass manufacturer at multiple sites:

Shop-floor and MES System for multiple plants: user interface, back-end database (Oracle) and middle-tiered applications
Costing functionality for existing MES system and interface to PeopleSoft
Plant asset utilization systems
Existing Shop Floor interface to MES system
Inventory tracking / flexible routing system
Product inventory analysis against internal and customer specifications
Interface to testing equipment to gather and forward data
System to track recipe setpoints and SOPs utilizing thin client user interface to an Oracle database

Designed and managed dozens of shop-floor and process control-related projects for a Fortune 100 aluminum manufacturer at multiple sites:

Automated furnace control system
OPC-based level 1 HMI interface using VB.NET
Process recipe settings and process data collection systems utilizing Wonderware's InTouch and Industrial SQL
Secondary MACT EPA compliance tracking systems
PDA-based data collection system with barcode scanners
Network utilization and tracking system
Interface to accounting system for tracking of capital projects
Maintenance tracking and inventory database system
Hazard Material handling database
Pat has also worked for TelePro in the following areas:
Instructed Novell CNE certification classes
Installed and supported multiple networking environments
Instructed MS Windows and desktop application classes
Developed dozens of Microsoft Access applications
Prior Experience
Before working at TelePro, Pat worked for Fenwal, Inc., in Boston, where he was a Systems Design Engineer for an Explosion Suppression Group.
Education
B.S./Physics, Illinois State University
Graduate work/Physics, Northern Illinois University, Dekalb, Illinois
Novell certified CNE and ECNE.