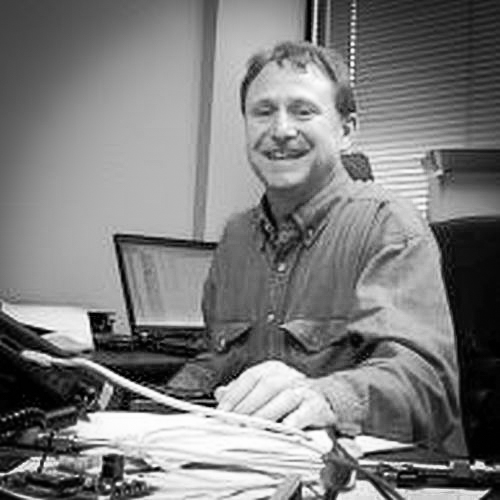 Expertise
David Knapp is an electrical engineer with 33 years' experience in real-time industrial process control, dynamic simulation, and digital signal processing.  A specialist in rolling mill control systems, he has over 90 stands of hands-on hot and cold mill automation experience.  He has also developed several practical, application-oriented training programs for individuals involved in real-time industrial process control.
TelePro Experience
In his 20 years with TelePro, Dave's responsibilities have included development of real-time rolling mill simulations, hot and cold mill gauge and tension controls, sheet flatness controls, and rolling mill control technology support for world-wide operating locations.  He has also developed and applied digital signal processing technology, dynamic process modeling and control system design techniques to a variety of other production processes for steel and aluminum.  These include casting, finishing, smelting and aluminum powder production.
He has earned USA and foreign patents in the areas of molten metal level control, thin sheet roll caster process control, model-based gauge control systems, and cyclical disturbance (eccentricity) compensation systems.
His project experience includes developing and implementing these innovative technologies:
Real-time dynamic modeling of hot and cold, single-stand and tandem rolling mills
New gauge and tension control strategies for single-stand and tandem mills
Automation architecture for rolling mill control, including:

Specification of system functions
Distribution of functions across various hardware levels
Information model design
System connectivity and integration design
Human-machine interface design
Data sampling rate and real-time processing throughput specifications

Prototype rolling mill automation systems, which were subsequently deployed to ten mills in the USA, Australia, and Britain
Strategies for improved threading on 5- and 6-stand mills through the use of setup models
Flatness controls on 15 cold rolling mills
Non-interactive gauge and tension controls on over 20 hot and cold rolling mills
Specialized training programs in control theory and rolling process automation, which have been presented to over 250 engineers and technicians in the metals industry worldwide
An encoderless roll eccentricity compensation system for rolling mills and sheet casters
Shop floor inventory and production tracking systems for hot rolled plate and coiled products and for sheet finishing operations
A standard hydraulic mill stand control product for rolling mills
Process improvement strategies, process troubleshooting, equipment specification and vendor/supplier selection
Prior Experience
Dave's experience includes 16 years at the corporate research and development center and in the flat-rolled products engineering division of a major aluminum producer.
He then founded Spectrum Systems Engineering in 1996 to provide a full range of engineering and consulting services:
Industrial process control systems
Real time data acquisition systems
Digital signal processing systems
Process simulation and modeling
Process monitoring and diagnostic systems
Quality performance monitoring systems
Shop floor control systems
Education
B.S./Electrical Engineering, Purdue University, 1980
M.S./Electrical Engineering, University of Pittsburgh, 1983
Professional Engineer Registration
1984, Pennsylvania
1996, Tennessee